AU, Nature's Flu Buster Ultimate Bundle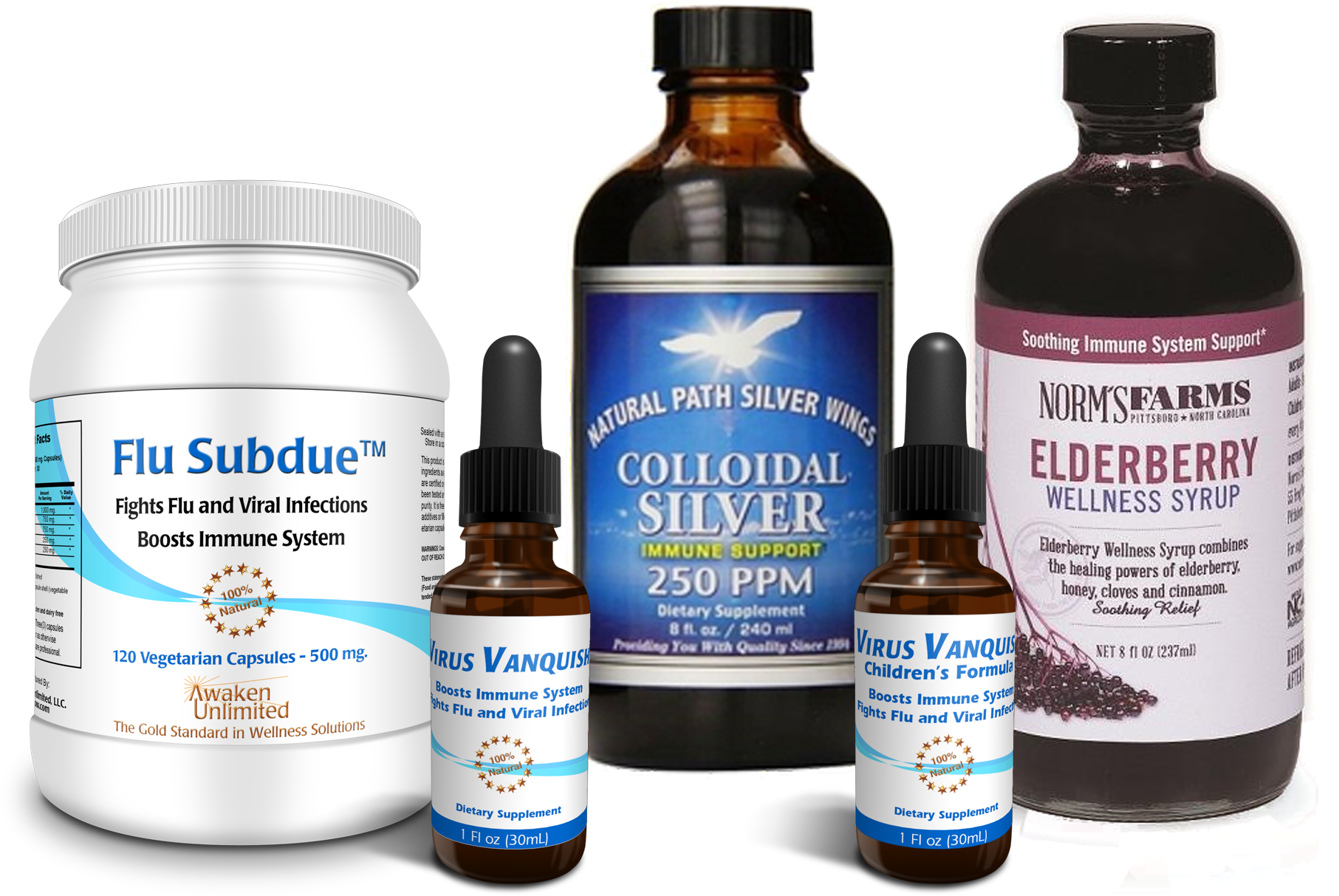 Flu Subdue™ is designed for adults as well as children over 8 years of age. It contains a powerful combination of Olive Leaf, Astragalus Root, Cat's Claw, Licorice Root, and Bee Pollen. During times of concern take two (2) capsules, two (2) times a day. Children 8 through 12 can take half that dose. For those who don't like swallowing pills, open the capsules and sprinkle over yogurt or on a cereal like oatmeal if you prefer.
Virus Vanquish Adult Formula is an alcohol based tincture designed for adults and children over 12. It contains the most potent extracts available of premium organic Elderberry, Olive-Leaf, and Osha Root. As soon as you have symptoms take two
(2)
drops per pound of body weight up to six (6) times a day.
Virus Vanquish for children is an alcohol-free tincture designed for anyone over the age of 2. It
contains premium
organic American Elderberry in a delicious base of all natural blueberry juice. Kids of all ages love it! For protection or when symptomatic take one drop per pound of body weight up to from two (2) to six (6) times a day.
Wellness Elderberry Syrup is formulated to bring natural and soothing relief for seasonal distress. Our Wellness Syrup contains equal amounts of our premium American Elderberry Extract and soothing, delicious honey, perfectly spiced with analgesic cloves to coat your sore throat. Cinnamon adds an extra kick of relief. Because this product contains honey, it should not be given to children under two.
Silver Wings Colloidal Silver (250 ppm) 8 oz. is a true colloidal silver (not ionic or protein silver's that are ineffective or dangerous. Use this in a humidifier whenever symptoms of a respiratory infection occur. Use one tablespoon of colloidal silver in one gallon of water and place humidifier near your bed. Run all night while sleeping or otherwise confined to bed. Safe for children of all ages and adults.
Is this effective? Our founder - Lono Ho'ala - was 68 years old when he contracted a serious case of deadly Hantavirus while working on his ranch. He has a pacemaker and type 2 diabetes. His doctor had just had a 16 year-old athletic boy die of the same virus the previous week and insisted Lono go to the hospital immediately. Lono refused and relied on the colloidal silver used as suggested above and the other products above to treat his own condition. He was quite ill for a week but he recovered completely while the athletic boy who went to the hospital died. This is an absolutely true story. You draw your own conclusions.