LivingWaters™ Premium 8-stage Water Purification System with Alkalizer™ Technology and Hydrogen Infusion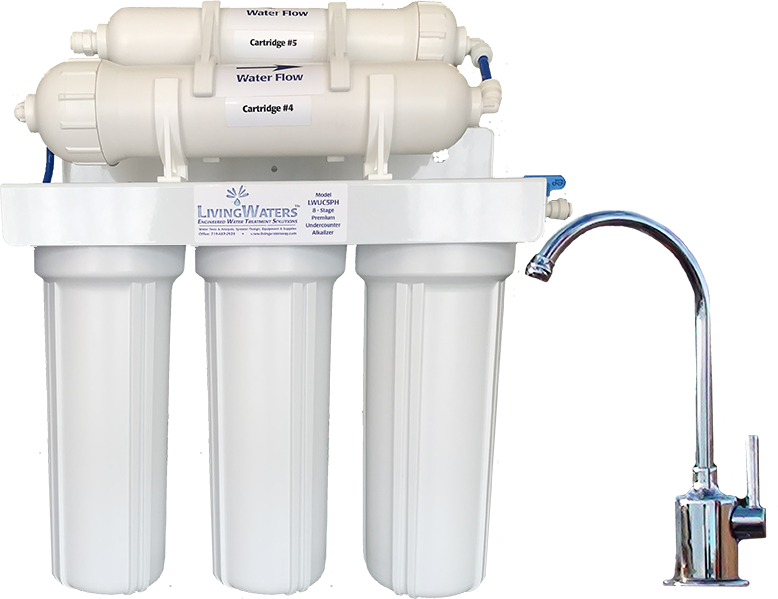 LivingWaters™ Premium Alkalizer offers:
Infusion of up to 1ppm of molecular hydrogen
P231 certified removal of microbes
Removal of volatile organic compounds (VOCs) that give water bad tastes or odors
Removal of disinfectant chemicals including chlorine and chloramine (untouched by the vast majority of water treatment systems including reverse-osmosis technology) and their toxic disinfection by-products
Removal of pesticides, herbicides, and pharmaceutical residues
Removal of toxic PFAs (dangerous "forever" chemicals used in fire-fighting foam, waterproofing materials, etc.)
Extended protection against toxic heavy metals including arsenic III & arsenic V, mercury, lead, chromium and selenium
Extended reduction of fluoride
In rare situations where nitrates exceed 10 ppm, an optional nitrate pre-filter is available
IMPORTANT: Unlike ionizers (e.g., Kangan systems), our technology preserves the healthy alkaline minerals of calcium, magnesium, potassium and phosphorus.
Our system includes:
1 - LW10FRC extended capacity fluoride/arsenic reduction cartridge;
1 - LWARG-A3 cartridge & 1 -LW10PAC2.5DPAG cartridge (these two cartridges comprise the COOL BLUE® technology for P231 certification as a water purifier);
1 - LW12ILKCAC cartridge;

1 - LWIL10HI molecular hydrogen infusion cartridge



1 - Installation Kit with housing wrench and extra "O" ring.
System comes complete with chrome finish, long-reach, Euro-style top-mount faucet. Faucet upgrades to brushed nickel finish or oil-rubbed bronze finish available.